ALO ALUMINIUM
OUR MISSION
Our mission is to be one of the leading roofing companies with an additional step ahead of others, in providing world-class roofs to the builders of our nation.
OUR VISION
Our goal is to earn builders' confidence through reliable customer service that provides high-quality products and services of second to none and ensures that clients/customers enjoy actual value for their money without regrets based on the company's modern equipment and highly motivated professional staff.
AN INTRODUCTION
ALO Aluminium manufacturing company (Nigeria) Ltd. has gradually become a household name in the Aluminium industry. Since its inception on 12th September 1990. The company has carefully studied the Nigerian situation and has come up with products and ideas that are calculated to meet up the rising level of customer sophistication in the roofing industry.

At ALO Aluminium, we recognise the absolute requirement of our clients in getting efficient, effective and reliable services associated with manufacturing Aluminium coil, step tile roofing sheets, long-span roofing sheets and professional installation of international standards.

In a bid to meet these formidable challenges, coupled with our belief that living under a neat, hygienic and durable roof is an integral part of healthy living and beautifying the environment: ALO Aluminium has as a result of the above structured its operations and professional workforce with a view of giving clients the best services that include speedy door to door delivery and professional installation of international standard that has indeed made us the No. 1 Roofers of the people.
ALUMINIUM – BRIEF HISTORY
Aluminium metal came into use through Bauxite extraction and Alumina refining, then primary smelting followed by rolling and extrusion, the roofing sheet manufacturing industries rely on the above for their raw materials.

Aluminium long-span roofing sheet is a product of Aluminium metal and one of the most modern metals. It has only been produced on an industrial scale since 1886 when Hall and Heroult independently discovered how to produce Aluminium through electrolysis. In 1900, the annual output of Aluminium was only one thousand tonnes. By the end of the twentieth century, the annual production had reached 32 million tonnes. This makes Aluminium the world's second most used metal. Today a world without Aluminium has become unimaginable.

The building industry is one of the industries that benefited immensely from Aluminium. Aluminium facilitates the construction of corrosion-resistant, lightweight and low-maintenance buildings around the world. It facilitates a long-lasting look able and hygienic environment, because of the corrosion–resistant and clean rainwater, which can be collected from Aluminium roofs and used without health problems. Similarly, the easy recycling of used Aluminium metal gives it second-hand value with environmental friendliness as it can be recycled again and again by present and future generations using about 5% of the energy required for primary production. Anything made of Aluminium can be recycled repeatedly.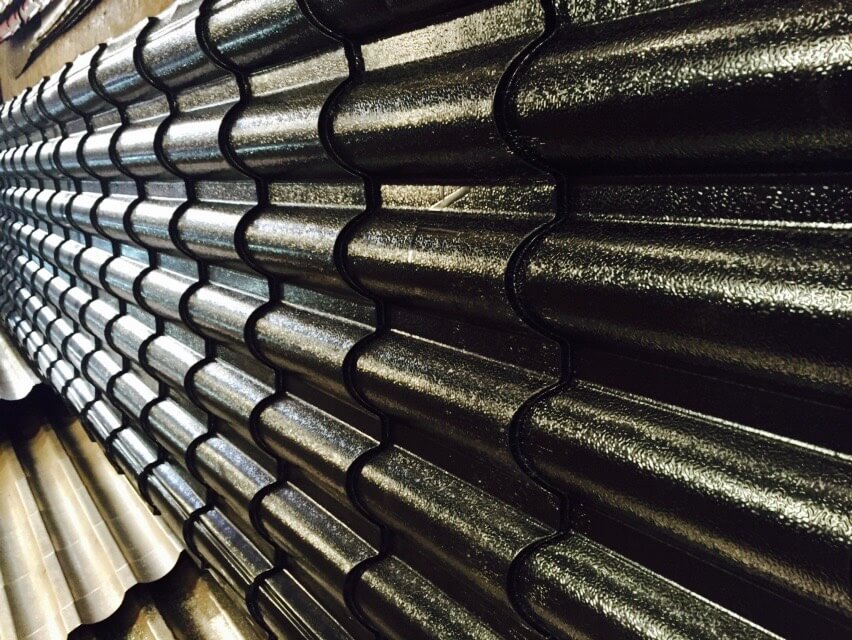 Aluminium strips are processed and supplied by rolling mill companies, to Aluminium roofing sheet manufacturers. The strip can be plain or stucco mill finish. For coloured sheets, the plain strip is passed through a colour coating machine with an infrared oven, which coats and cures acrylic/polyester paint.

Aluminium long-span roofing sheets are manufactured with a roll-forming machine, which is called ROLL–FORMER. The roll–forming machine has the capability of producing long lengths of roofing sheets as long as one can handle them safely. The corrugated sheets are available in stucco mill finish and in different oven–baked colours. Major equipment for roofing sheet production is the folding machine, which produces ridges gutters and many other types of flashing. There are other smaller machines used in making different accessories such as hook bolts, washers, screws and pop rivets.